We see thousands of beautiful and elegant websites on a daily basis, but they are created with hard works and day-night struggle. That's why we need to protect our hard work, and this is called Copyright. Remember, copyright is not mandatory but still has some benefits. Here we know How to copyright a website, and one more thing You can find the author of the content easily.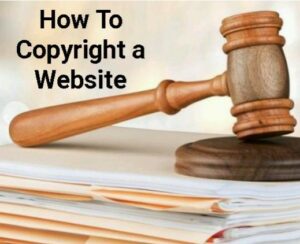 What is Copyright?
Copyright is a form of protection in the U.S. Constitutional Act 1976, and it gives the owner exclusive and intellectual rights to use, publish, republish the work. It includes a story, songs, websites, art, etc. Copy encourages the creators for better content and protects their content from stealing.
The fundamental motive of copyright is to induce and reward producers through the provision of property rights, to cultivate fresh works, and to make those works accessible to society to enjoy. This is done by granting special exclusive rights to producers, which enable them to protect their creative works against stealing. They receive the benefit of economic compensations, and the public acquires the benefit of the creative works that might not otherwise be generated conveyed.
What can be copyright?
If you are working hard to building your website, then you have the right to protect it. But what can be copyright? This is true that you cannot copyright your whole website and the whole data you created, but it does intentionally for some reason. Let see first what can be Copyright:
Blog Post
Original Creation
Musical Work including Lyrics and podcasts
Literal work and computer programs
General content and webinar
Pictorial works including Maps
Movies & Web series
Sound recording
Poetry, Novels, Stories
Pantomimes and Choreographic Works
What cannot be copyright?
As I already mentioned, you can't copyright each and everything according to the U.S. Copyright Act 1976. This act is incarcerated in such a way that you can copyright only if you maintain originality and creativity. Let see what can not be copyright:
The domain name of a website as it would expire with time, and another one acquired it.
Symbols, Designs, and logo of the website ( But with Trademark, you can protect them)
Individual words and phrases
Titles, Slogans, and Taglines
URL of the website
Ideas and Procedure of work
How to Copyright a Website?
Once you understand and decided that your creation or website is qualified for Copyright, then you have to take an effort further and get copyrighted to your website. Now I am going to let you out how to copyright a website. Let's start step by step.
Or Type "Copyright Registration" on Google(In your respective countries). A new window opens, scroll down to the website, or you may read T & C of registration. Click on "Login to the Electronic Copyright Office (eCO) Registration System."
Now you have to create your account on a U.S. copyright system. If you already have one, then you can proceed directly, once you have done with Login, You have to select your category(Website included different categories, choose wisely).
After open login credentials, you have an option to choose your category which best suited for you. But we are searching for how to copyright a website; we Choose " Other digital content" and click on Blog.
Fill Copyright Application 
Next step to fill out your application and put mandatory information like:
Title of the work (Title associated with your website )
Completed Year
Date of the first edition
Name of author(s) (you and your authors)
Name and address of the individual who claims the copyright
Description of work submitted
Once you fill the application, you will be directed to the Fee Payment.
After completion of the Application submission, Now you will be directed to the Fee payment, which is $35 for online payments, and you can pay with a credit card. But the standard fee is $65 (standard fee for when you are not eligible for a single application).
Final Step- Mail or upload your work.
Once the application and fee payment are successful, you have to follow the final step by uploading your work, but If Copyright Office nearby, then you also can mail them by the following mentioned procedure.
You just have to Upload your pdf file on the copyright website, and after the document is uploaded, Your registration is complete.
How Long does copyright registration take?
Copyright registration is not as fast as it should be! Whether you applied through Copyright Office or Electronically from the Website, it takes 3 months to 9 months.
Via website: 3 to 6 months
Via mail: 6 to 9 months
For better understanding, check it on your account.
Expiration of Copyright
After registering your website, you might want to know how long does copyright last? Or whether you need to renew it every time? Then the good news is that you don't have to register again and again. The copyright claim will last until your life! Or if you applied as standard work, then it will last your life plus 70 years more.
Final Words
I hope you very well understand how to copyright a website. I want to remind you again that Copyright is not mandatory, but you can prevent your crucial and important data from stealing. Copyright registration will help you to take legal action against infringement and maintain your ownership or authorship.