What is a Publisher?
A publisher is a person who produces articles or content with his own creative mindset and knowledge. Here we find how to find the publisher of a website.
Who is a publisher on the website?
The publisher could be an author, columnist, contributor, and administrator of the website. The publisher is solely responsible for writing articles and publishing content on which he/she may authorize to do so.
Why do you need to locate a Publisher?
Locating the publisher could have been different motives, depending on the requirements of the individual. But below are some brief reasons of same:
To Hire: It could be generous and one of the main reasons to find a publisher of a website. Maybe recruiters found a publisher is quite reasonable to hire.

Abuse/Copyright issues: This is the other big purpose to find a publisher. It is typical when other publishers found that their content is copied.

To partnership: This is the same as the first point but sometimes another creator needs some good partners for their work. So they find the publisher of a website.
How to find the publisher of a website?
Finding a publisher is not too difficult to discover especially when everything is transparent. And in WordPress, this is quite simple.
Each website has some pages where they published their author's information or give them credit to their particular articles.
Let's check where you can locate a publisher:
1- About Us Page
About Us, the page is the fundamental and most important overview page which reveals all details of a particular blog like what they do, who they are, whats their services and all. Sometimes website owners also share their publisher's credentials and listed their authors. You can visit the about us page and search for publishers.
2- Contact Us
Contact us is extremely common and also a mandatory page of any website. With the help of the contact us page, users can easily contact and get in touch with the website owners and publishers.
3- Authors Details
It is common that medium and large websites have some authors and publishers. This is impossible to grow a large website by individuals. So website owners have a permanent or part-time publisher as well as writers or authors. Once you visit the author details page, you get all publisher's list.
4- Email them
This technique is promising among us suggests yet. You can find the email of the website owner easily from their website. You get the email list on the contact us pages.
5- Social media
Almost every website has social media handles where they share their content on social media platforms. You can search like; "website name" + FB, Instagram, LinkedIn, Tumbler Etc and easily access website data through social media handles.
6- The hidden trick
This trick you may not found everywhere but this is a solid and simple way to find the publisher of a website.
Go to google.com
Type [ domain.com/?author=1 ] in the search box. You will find a new screen that displays the details of the publishers of the website.
What If the Above method not work 
Many times website owners do not share their publisher details (whatever reasons could be). But all the doors are not closed yet, If you are not able to find the publisher of a website. There is one more way to find the publisher of a website and that is ICANN Lookup. This tool (Also termed as WHOIS) grants you the ability to look up the registration data for domain names.
WHOIS is the tool which collects, store, retain and generate the domain name, registration and website owner or publisher which is queried by users.
How WHOIS or ICANN work?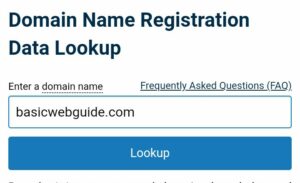 Enter the domain name of which publisher you want to disclose.
Forthwith click on lookup and a new screen opens where you find all credentials as I have shown below.
We provide the best methods which help you in how to find the publisher of a website. You can visit their website pages like about us, contact us, social media sites, hidden secret methods, and ICANN OR WHOIS. If you follow the above procedure you will surely find your way.