We all love to share our opinions, whether written or oral. WordPress site is such a fantastic platform where we can share our views and thoughts. But a couple of writers want to keep their site private. So, today we learned how to make WordPress site private in easy methods.
If you are still struggling to build your first WordPress site, read a quick guide on creating a WordPress account in a few steps. Converting a WordPress site private is a reverse process as most bloggers love to be live on Google.
But the private site has its benefits. For example, the private site can collaborate with the companies' clients, share your thoughts with the limited persons, make your personal dairy, etc. However, instead of making a site private, you can also private your posts.
I will discuss all the parts in detail, including how to make WordPress site private; read this article thoroughly.
How to make WordPress site private without plugins?
Thankfully, we have some easy methods to make WordPress site private. Earlier, WordPress itself had an in-built feature for this task through its dashboard setting. This setting could be accessed via setting>> General >> Privacy. However, some websites still claim this method of making a website private, but it is not available anymore.
Additionally, you can make a WordPress website private using WordPress plugins, and it is the only best solution. Unfortunately, you can't do this from the WordPress dashboard. So, let's explore the different techniques to make WordPress's site private.
How to make the entire WordPress site Private using Plugins?
WordPress has tons of plugins to make a website private in a few steps. I am including here some of the popular and best plugins for how to make WordPress site private. I will not discuss a long story; rather will discuss quick and easy steps.
My Private Site Plugin
My private site is a simple yet popular plugin for a private site. You can install and activate it through your WordPress dashboard. Login to your dashboard and head to the plugin section, type My Private Site in the search bar, install, and activate the plugin.
Once activated, it is added to your dashboard; open it. Next, move to the Site Privacy tab and click on this. Here you can see Enable login Privacy button, click on the box in front of this to activate, and finally click on the Save Privacy Status button.
Now, please move to the next tab landing page, where you need to decide what users see or where users will land when they visit your private site. If you want to know more about the landing page, read the best guide on what a Landing page is and how to create a Landing page.
You can redirect the user either to the same URL again, homepage, admin dashboard, or you can redirect the user to a specific URL. In the last case, you must fill the specified URL on the blank space given.
The next tab is Home Page to decide whether users can access your private site's homepage without login or not. However, if you are making a site private, this option is not recommended, but if you want to display any specific message to users, then it can be allowed.
Next, you can restrict any user to register on your site but if you want to allow users to do so, then tick on the checkbox. Additionally, you have the option to block the standard user registration page.
Custom Login to Private Site
As the name implies, a custom login is a way to allow a particular group of people or users to login into a private site. This option could be accessed from the above-mentioned plugin My Private Site and navigated to the Advanced tab.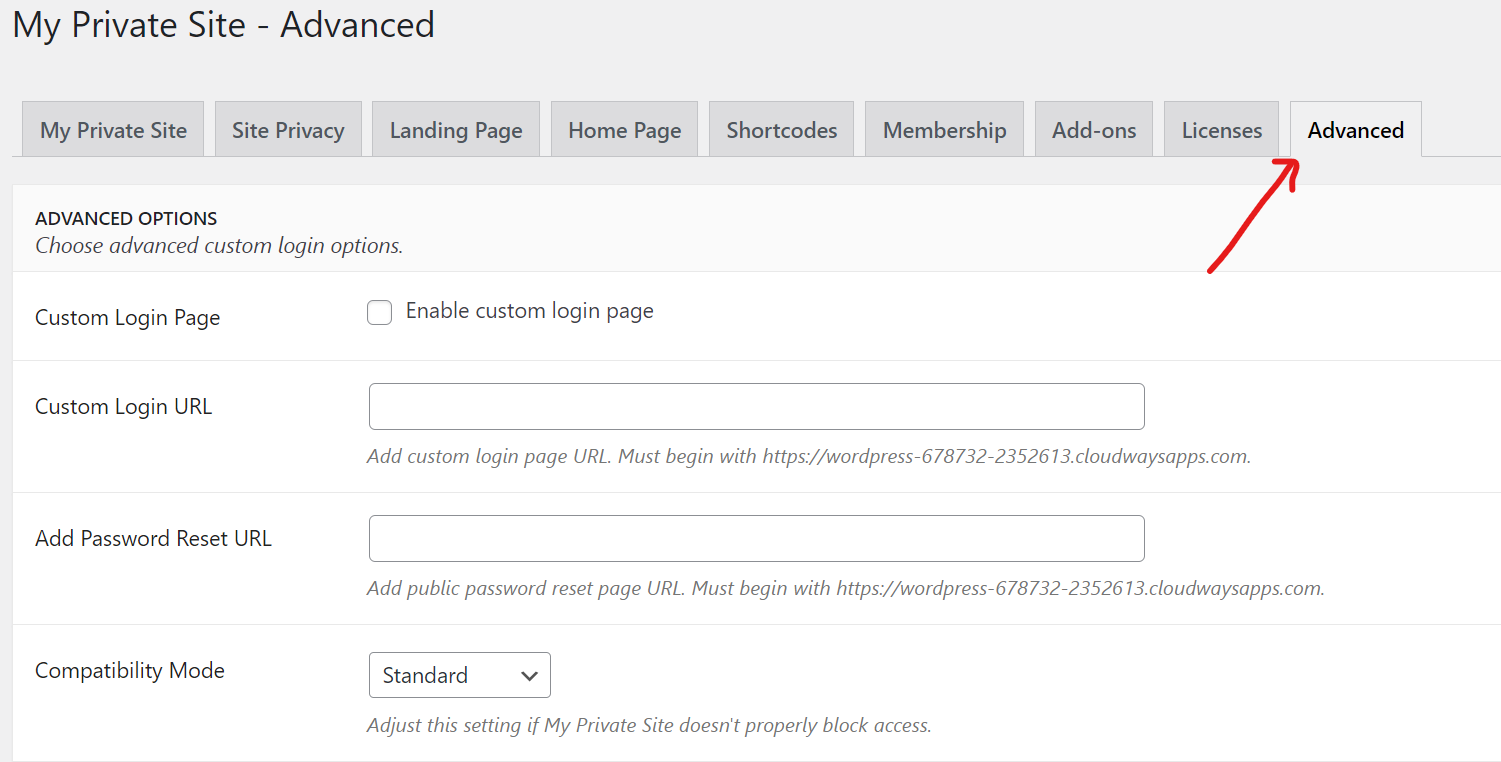 If you want to create a custom login page, click on the checkbox, fill custom login URL, and create a password. This tool is very useful for any company or group project users who want to share confidential information.
That's it. Above mentioned method and plugin is the best solution for how to make WordPress site private in an easy way.
What are the other plugins to make a site private?
My Private site is just not a plugin to make a website private, but there are some other tools that help you with this task. However, I will not discuss them in detail but will give a brief overview.
Page restrict is a simple tool in which you can make a complete site private or can make a portion of the site.
Just install and activate the page restrict plugin, head to the setting, type a restriction message that will display to the users on visiting the site. Then, enable the login form restriction method, select items for the page list, and save the setting.
All-in-one Intranet provides an instant method to make the entire site private in just a few clicks; however, you can't make any specific portion of the website private.
Install and activate the All-in-one Intranet plugin and navigate to the setting. Tick on the checkbox "Force site to be entirely private," enter login redirect URL, and assign the log-out time when the user automatically logs out.
How to make WordPress Post private?
Despite making a whole WordPress site private, you can also consider making WordPress post private or make it a password-protected post. This is extremely useful when you like to inaccessible any post or page from the user.
To make any post private or password-protected, open the specific page or post, and locate the edit link in front of the Visibility tab (inside Publish section).
Inside the visibility section, as shown above, you have 3 options; Public, Password-protected, Private. Select any one of the options and click on the Ok button; however, if you go for password-protected, then create a password for this post.
Share the created password only to the people who you want to access this post. Remember, the Editor and Administrator won't need the password to access this post, neither private feature work for them.
Plugins to make WordPress posts private
However, above mentioned manual method is quite easy to make a post private. But we have some plugins also through which you can do this. Plugins offer more features apart from just making a post private.
Final Words
This is all about how to make WordPress site private with plugins and without plugins. Additionally, we also learned how to make WordPress post private in a few steps.
Private WordPress sites are helpful when you want to share your opinions, information, photos, etc., with a limited group of people.
However, it is better to make a specific portion of the site, post, or page private instead of the entire site private. In this way, you can convey your message or display the content to only specific people.
I hope you like this article and understand well how to make WordPress website private. Still confused? Then let me know your query through comments.